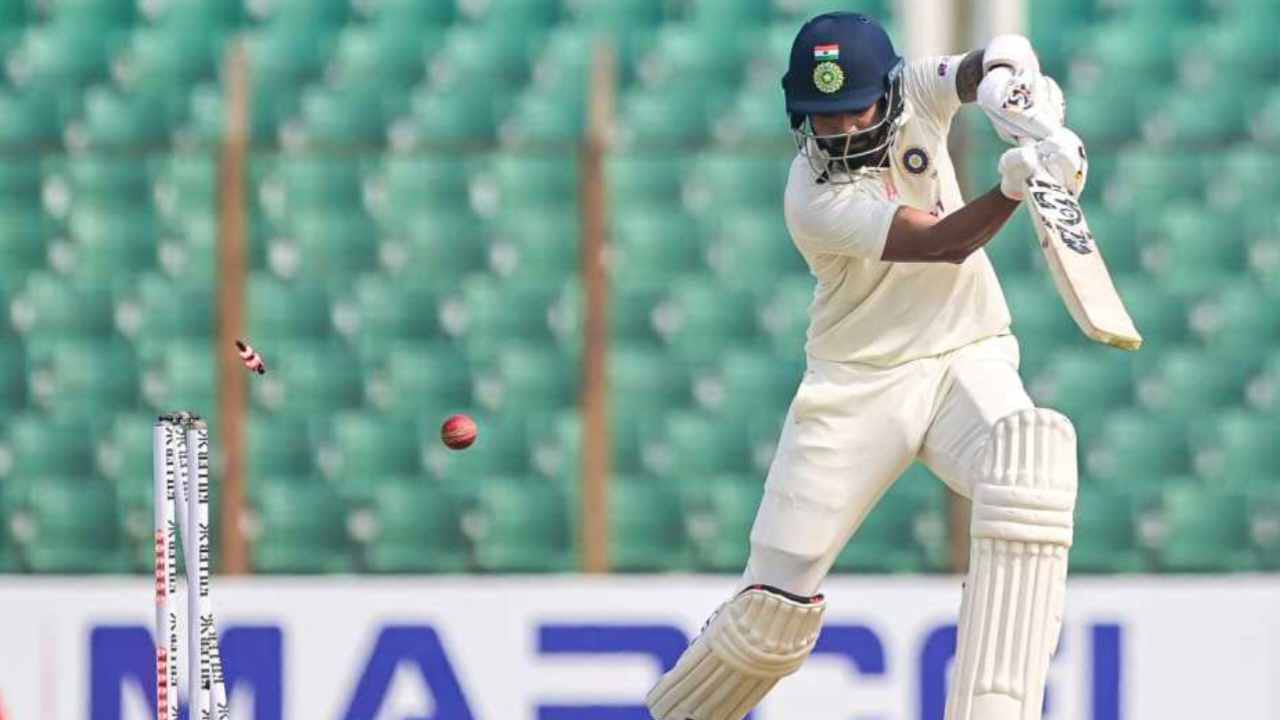 Advertisement
India, who are touring Bangladesh, suffered back-to-back shock defeats in the first ODI series and avoided the embarrassment of a whitewash with a resounding win in the last match after giving up the chance to win the trophy early on. Subsequently, India, who will participate in the 2-match Test series against Bangladesh, has entered the field to win the trophy with a score of 2-0.
Because India, who are currently 5th in the points table in this series as part of the Test Championship Trophy, need to win this series and the next series against Australia in February to qualify for the final. In that situation, India won the toss and declared to bat first in the first match of the series which started at 9 am IST at the Chattogram Cricket Ground on 14th December.
Vice-captain Rahul is leading the Indian team as captain Rohit Sharma, Mohammed Shami, Bumrah and Jadeja are out due to injury. Young opener Subman Gill, who opened the batting under his leadership, was calm and got out after hitting a wrong sweep shot for 20 (40). In the next few overs, captain Rahul was bowled out for 22 runs and Virat Kohli, who came next, gave a shocker by getting out for 1 run.
Another wicket for Bangladesh!

KL Rahul goes for 22.#BANvIND | #WTC23 | 📝 https://t.co/9ddVDetqQg pic.twitter.com/E1GvJo42fP

— ICC (@ICC) December 14, 2022
Mouth roll only:
So India got off to a poor start of 48/3, followed by Rishabh Pant, who hit 4 fours and 1 six in his own style, scoring 29* (26) and Pujara anchoring it with 12* (32). Earlier, KL Rahul, who will be the captain in the tournament, said yesterday that to qualify for the World Test Championship final, it is necessary to win the series and for that India will have to play aggressively.
– Advertisement –
He had said that India will play more aggressively in their style than England, who have made history in Pakistan by playing with the attitude of not giving up on action, no matter what. But as an ordinary player, he has been a regular batting regular in recent times and has led India to defeat in major series like the recent T20 World Cup.
Kl Rahul before match: You will see agressive cricket from our side.
Kl Rahul after match:😂 #BANvIND pic.twitter.com/elskc2nA78

— Ezhan (@izhan_026) December 14, 2022
However, his confident and bold speech before the match got excited fans wondering if he would be able to perform as captain. But speaking bravely, he showed the same consistency of batting without any change in the field and took 22 runs from 54 balls with 3 fours at a strike rate of 40.74 and got an edge and returned to the pavilion with a clean bolt. The fans who saw it are talking on social media saying that he will never show action on the field and in action.
Also Read: IND vs BAN: Odd decision by Indian team after winning the toss. Captain Rahul after the toss – what did he say?
Because the main reason for England's success in the first 2 Test matches against Pakistan was that they smashed 150-200 runs before the meal break. In that way, not only Rahul but other Indian players are not qualified to talk about action. But Rishabh Pant, who scored 29* (26) runs and stands as an exception, is not only this match but has been playing Test cricket with an aggressive approach since the beginning.
Advertisement