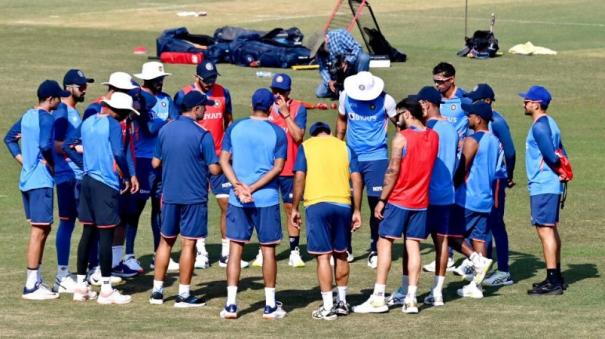 Chatogram: The first match of the 2-Test series between India and Bangladesh will start at 9 am today in Chattogram.
Indian cricket team is touring Bangladesh. The two teams will face each other in a 2-Test series. The first match will start today at 9 am at Jaghur Ahmed Stadium in Chattogram.
The Bangladesh series is crucial for the Indian team to qualify for the World Test Championship final. India are currently 4th in the World Test Championship points table. Australia, South Africa and Sri Lanka are the top 3 teams. To qualify for the final in June 2023, India will need to win the 2nd Test against Bangladesh and the next 4th Test against Australia.
Only if they win all these 6 matches can they directly qualify for the final without waiting for the results of the other teams. Team India's journey to qualify for the World Test Championship final begins today at the Jharkhand Stadium. This ground is good for batting. However, it will give way to the whirlwind in the last days.
Bangladesh have yet to win a Test match against India. However, the absence of Rohit Sharma, Jasprit Bumrah, Mohammad Shami and Ravindra Jadeja due to injury may give the Indian team some setback. Jadeja's absence on such a pitch could put the opposition's 3rd and 4th innings batting at a disadvantage. However, Axar Patel may try to fill Jadeja's place.
Apart from this, in the absence of Rohit Sharma, the Indian team is led by KL Rahul. Kuldeep Yadav or Saurabh Kumar could be in place if India decide to go with a 3rd spinner. Left-arm spinner Saurabh Kumar recently took 15 wickets in the 2-Test series against Bangladesh 'A'. Perhaps Jaydev Unathkat or Navdeep Saini could be in place along with Umesh Yadav and Mohammad Siraj if India decide to go with 3 fast bowlers. Shubman Gill, Cheteshwar Pujara, Virat Kohli, Shreyas Iyer, Rishabh Pant can add strength in the batting.