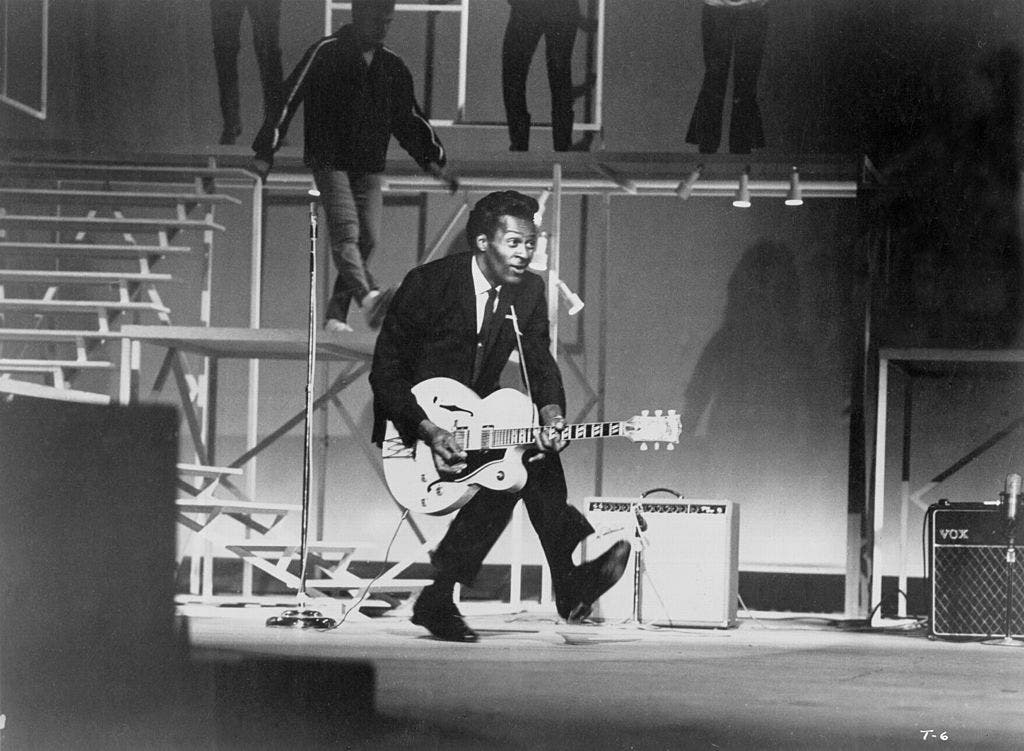 Rock 'n' roll pioneer Chuck Berry died on this day in history, March 18, 2017, at age 90.
"Chuck Berry was arguably the founding father of rock 'n' roll," said Neil Portnow, Recording Academy president and CEO, in an article on the Grammy Awards website upon Berry's death. 
"Not just because he was one of its greatest songwriters and established some of the electric guitar's earliest and most memorable riffs, but also because he was one of music's most palpably exciting entertainers and biggest personalities," said Portnow in the same article. 
ON THIS DAY IN HISTORY, MARCH 17, 1776, BRITISH TROOPS FLEE BOSTON AFTER DRAMATIC 11-MONTH SIEGE BY MILITIA
Born as Charles Edward Anderson Berry on Oct. 18, 1926 in St. Louis, Missouri, Chuck Berry was exposed to music through his parents and his church. 
His first musical performance was at his high school, his official website notes; there, he sang a song called "Confessin' the Blues" by Jay McShann.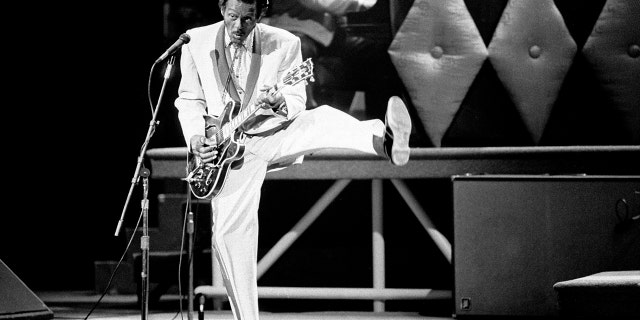 "It was at his high school's student musical performance, when the blues was well-liked but not considered appropriate for such an event," said the site.
Despite this, Berry received "thunderous applause" for his performance — and decided he should pursue a career on stage, according to reports.
ON THIS DAY IN HISTORY, MARCH 16, 1802, UNITED STATES MILITARY ACADEMY ESTABLISHED AT WEST POINT
After this, Berry took guitar lessons and developed a musical style that was fairly unique for the time period, his website says.
"In 1952, he began playing guitar and singing in a club band whose song list ranged from blues to ballads to calypso to country," says his website. 
"Berry was becoming an accomplished showman, incorporating gestures and facial expressions to go with the lyrics."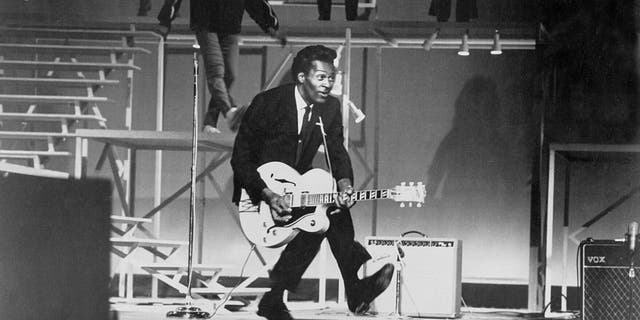 In 1957, he released his debut album, "After School Session," with the Chess Records label. 
He would go on to release an additional 18 albums during his lifetime. 
ON THIS DAY IN HISOTRY, MARCH 15, 1869, CINCINNATI RED STOCKINGS BECOME FIRST PROFESSIONAL BASEBALL TEAM
Among Berry's biggest hits: "Johnny B. Goode," "Maybellene" and "Roll Over Beethoven." 
Those three songs were inducted into the Grammy Hall of Fame in 1999, 1990 and 1988, respectively. 
Berry was honored with the Lifetime Achievement Award at the 26th Grammy Awards in 1984, notes his website.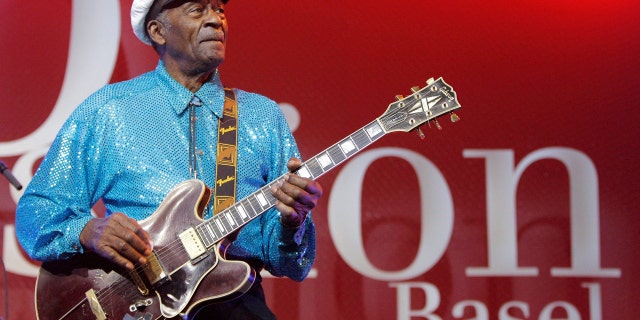 Two years later, in 1986, Berry was the first-ever inductee to the Rock & Roll Hall of Fame. 
Berry's lengthy career, however, was not without controversy and legal woes. 
ON THIS DAY IN HISTORY, MARCH 14, 1879, ALBERT EINSTEIN BORN IN GERMANY, EXPLODED ONTO WORLD STAGE AT AGE 26
In 1959, he was arrested and charged with violating the Mann Act after it was found he transported a 14-year-old girl from Mexico to St. Louis to work in his nightclub, notes the History Channel. 
Berry was convicted in 1960. He spent 20 months in federal prison. 
ON THIS DAY IN HISTORY, FEB. 7, 1964, BEATLES ARRIVE IN US FOR FIRST TIME, INSPIRE NATIONWIDE MANIA
A Federal Appeals Court ordered a retrial after it was found the judge had a history of disparaging racial remarks, and Berry was once again convicted of Mann Act violations in 1961, says History.com.
In 1979, Berry was sentenced to four months in jail and 1,000 community service hours after he was found guilty of tax evasion, according to Famousdaily.com.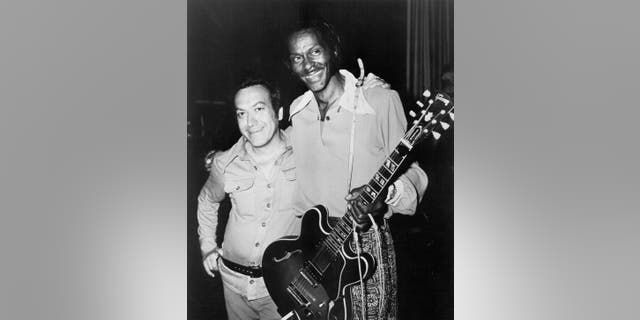 In 1990, police raided his estate and discovered a trove of pornographic material, including videos that appeared to be of minors. 
Berry was charged with child abuse, although the charges were later dropped, according to UPI. 
CLICK HERE TO SIGN UP FOR OUR LIFESTYLE NEWSLETTER
Four years later, Berry settled a class-action suit for $830,000. 
The suit was filed by 59 women who said they were videotaped without their knowledge while using the bathroom at Southern Air, a restaurant owned by Berry, says website Bestclassicbands.com.
CLICK HERE TO GET THE FOX NEWS APP
Berry paid an additional $310,000 to another employee of the restaurant who was videotaped without her consent while using the bathroom, that website notes.
Berry's 20th studio album, titled "Chuck," was released posthumously on June 9, 2017.