By Euronews  with AP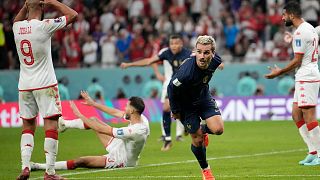 Tunisia 1-0 France
France qualified for the last 16 of the World Cup despite losing to Tunisia, who won thanks to a 58th-minute strike from Wahbi Khazri

Antoine Griezmann thought he had equalised for France in the eighth minute of stoppage time, but his goal was ruled offside following a video review.

Despite the defeat, defending champions France still won its World Cup group.

Tunisia continued a trend of never having progressed beyond the World Cup group stages.
Australia 1-0 Denmark
Australia made it to the knockout stages of the World Cup for the first time since 2006, beating favoured Denmark.
Australia's winning goal was scored by Mathew Leckie in the 60th minute.
For Denmark, the match was a major disappointment, as the team needed to win and hope that Tunisia would not beat France to advance to the round of 16.
It wasn't a bad game for the Danes, who attacked from the start but never managed to break through the Australian defence.
The two teams drew 1-1 in the group phase of the last World Cup in 2018.
Argentina 2-0 Poland
Lionel Messi had a penalty saved but his team still beat Poland 2-0 Wednesday after second-half goals from Alexis Mac Allister and Julian Alvarez and advanced to the last 16.

It's a strong position for Argentina to be in, especially considering the team opened the World Cup with a 2-1 loss to Saudi Arabia in one of the biggest upsets in the tournament's history. 

Argentina finished in first in Group C to set up a match against Australia, a surprise qualifier for the knockout stage.

As their game drew to a close, Poland were level on points and goal difference with Mexico. Another goal for Mexico, who led 2-0 at the time, would have seen Poland knocked out. But a late goal for Saudi Arabia instead saw Poland edge through.
Mexico 2-1 Saudi Arabia
Mexico won 2-1 against Saudi Arabia with goals by Henry Martin and Luis Chaves, but the victory was not enough for the team to advance out of Group C.

Mexico tried desperately in the final 20 minutes to get another goal — including an effort by Uriel Antuna in the 87th minute that was ruled offside — but came up short.

Mexico has reached the round of 16 at the last seven World Cups, tied for the longest current streak with Brazil. But in Qatar, the team sat at the bottom of Group C ahead of the must-win match against Saudi Arabia.

But because of Argentina's 2-0 victory over Poland in a simultaneous match, Mexico failed to advance out of its group for the first time since 1978.

Saudi Arabia reached the round of 16 back in 1994, the team's World Cup debut, but hasn't made it past the group stage since.